3
03
2010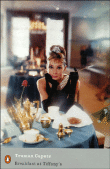 Título: Breakfast at Tiffany's
Autor: Truman Capote
Obra adaptada: NO
Editorial: Penguin Books
 The heroine of Breakfast at Tiffany's, Holly Golightly, became one of Capote's best known creations, and the book's prose style prompted Norman Mailer to call Capote "the most perfect writer of my generation."
For Capote, Breakfast at Tiffany's was a turning point, as he explained to Roy Newquist (Counterpoint, 1964):
"I think I've had two careers. One was the career of precocity, the young person who published a series of books that were really quite remarkable. I can even read them now and evaluate them favorably, as though they were the work of a stranger… My second career began, I guess it really began with Breakfast at Tiffany's. It involves a different point of view, a different prose style to some degree. Actually, the prose style is an evolvement from one to the other—a pruning and thinning-out to a more subdued, clearer prose. I don't find it as evocative, in many respects, as the other, or even as original, but it is more difficult to do. But I'm nowhere near reaching what I want to do, where I want to go. Presumably this new book is as close as I'm going to get, at least strategically."
http://en.wikipedia.org/wiki/Truman_Capote
Book and film now available at the School Library!