8
05
2010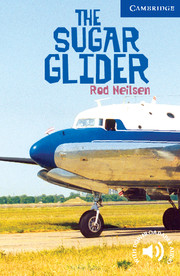 IDIOMA: Inglés  
TÍTULO: The Sugar Glider
AUTOR:  Rod Neilsen
EDITORIAL : Cambridge
OBRA ADAPTADA: SI 
NIVEL: Intermedio
RESEÑA: This book was written by Rod Nielsen and first published in 2003. An anonymous narrator tells an adventure story set in Australia where two pilots have to do a strange secret job for the government.
Don Radcliffe returns to Australia hoping to rescue a failed marriage and to spend more time with his daughter, Judy. But first, Paul Copeman, an old friend, offers him a strange routine job in an old DC4 airplane called "The Sugar Glider". With this job, they will earn enough money to start their dreamed flying school. They have to fly the old DC4 to Melbourne Air Museum, making a stop on the way in a mine to pick some things up for the government. To spend more time with his daughter, Judy joins the trip. When they land near Warrangi Mine in the planned stop, some workers put several boxes and containers in the plane as they fill up the fuel tanks. After that, they continue their trip changing the flight plan crossing the mountains. An hour and a half later, the engines stop working and "The Sugar Glider" crashes into the mountains. The survival characters have to try to return to civilization searching for help, but perhaps, they might have problems with the government's people… or not. You should read the book to know the end of the story.
In my opinion, the book is worth-reading, thrilling and not boring at all. I would like to recommend this book to everybody. It is easy to follow and entertaining. It's perfect!
VALORACIÓN: 4/5 
Benedicto Fernández  2ºNI
Comentarios :
No existen comentarios »
Categorías :
General
,
INGLÉS