6TH LEVEL
In this activity you've got three levels. Choose one and play.
REMEMBER THE ALPHABET
Look at this picture and put in alphabetically order the animals and give to your teacher your activity.
ALPHABETICAL ORDER
COUNTYNG  SYLLABLES WITH CHARLIE
SPELLING WORDS
LET'S MAKE WORDS
DOUBLE CONSONANT
PLURALS NAMES
THE VERB TO BE
How use the verb to be in different characteristics
PRESENT CONTINUOUS
Look this video and learn how use it
What is Homer Simpsons doing?
SIMPLE PRESENT
Look this video & learn the grammar
What do you do?
What does he do?
What does she do?
REMEMBER & LEARN SOME ADJECTIVES
Look this video, this profesor is crazy but he helps us
ACTIVITIES FOR YOU.  PRACTICE THE OPPOSITES
PRACTICE  SOME or ANY WITH COUNTABLE
AND UNCOUNTABLE NAMES

LET'S GO TO STUDY IRREGULAR VERBS
This activity help you in your pronunciation
GRAMMAR FOR YOU
I don't want to be a secretary  because I don't like computers.
She wants to go to the cinema because she wants to watch Harry Potter.
He wants to go to the Sport Centre because he wants to play basketball.
I want to go to Paula's house because I want to listen her new CD.
I want to go to Lourdes' party because I want to eat her chocolate cake.
She doesn't want to go to school because she doesn't want to do her homework.
PRACTICE WITH ADJECTIVES
COMPARATIVES ADJECTIVES
LEARN WITH MUZZY THE COMPARATIVES
SUPERLATIVES ADJECTIVES
How many words can you make?
SPELLING
ADDING ENDINGS
WORDS WITH CH or SH
WORD GUESS
SPACE HANGMAN
DIFFERENT VOCABULARY
VOWELS AND CONSONANTS SOUNDS
Speech therapist videos of how to forma letter sounds.
ROGER'S ROOM
This is Roger. He needs your help to decorate his room.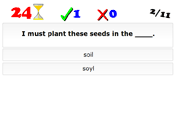 A multiple choice quiz based on identifying the correct vowel sound for given word.
Look this video about likes and dislikes. Countable and Uncountable names.
This website has activities for E.S.O, but you in 6th level can use too. Try it!!!