ENGLISH LIBRARY
A new page stars for you.
Read and learn
The very hungry caterpillar
A story by Eric Carle
DEAR ZOO
You can read in this page a lot of books. You can choose that book you want to read.
BOOKS FOR 3rd year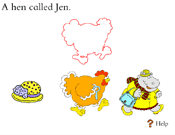 STORY TIME
The story from Charlie and Lola
BOOKS FOR 4th year
THE HAPPY DUCKLING 
Look this video and think about it.
[youtube]kseqvjG1dKM?fs=1[/youtube
An interactive versión of THE WISHING TREE by Rachel Dawson, with narration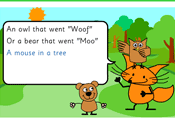 Read and listen to an interactive animal rhyme.
WHERE IS MY HONEY?
Look, listen and answer this questions. Give to your teacher the answers.What kind pets has he got?How many dogs has he got?Can you say their names?How many cats has he go?Can you say their names?How many birds has he got?Say 2What colour is the jay (brightly coloured bird)?Is gecko a lizard?  Choose the answer: Yes, it is.      No, it isn'tWhat's she name?
BOOKS FOR 5th year
BOOKS FOR 6th year
ROMEO AND JULIET
The Graveyard Book
Imagine that you're growing up without any parents. Imagine that a kindly group of strangers have taken you in and are raising you. Now imagine that all of those strangers have been dead for centuries. Halloween came and went a long time ago, but if you find yourself in the mood for something a little spooky — or just a really, really good story — I've got just the thing.
The Graveyard Book is the story of a young boy — called Bod, short for Nobody — who's adopted by the (deceased) (obviously) inhabitants of a local graveyard after his parents are murdered. Like I said — it's a little scary. It's never gory or gruesome, but some parts might give you shivers. Some of us like that, though . . .
To say any more would give too much away, but the book manages the impressive and difficult feat of advancing an exciting overarching plot through a series of short vignettes (self-contained stories or scenes) about Bod as he grows up and learns the ways of the world. Each chapter up until the last could actually probably be read on its own and still be a great story, and I'm impressed that Neil managed to pull that off while still linking them all to the very cool plot of the book as a whole.
And his prose (his style of writing, the words he chooses, the way he structures his sentences, etc.) is great. He's got this sly sense of black humor — I lost count of the number of puns he made on the word "grave" — and a very theatrical, visual way of writing. You can definitely see the action playing out in your head.
If you liked watching Katniss change and grow up in The Hunger Games, or seeing our world given a little twist in Harry Potter, or the dark, fantastical elements of Twilight, then you'll love The Graveyard Book. It's a quick, easy read, but it's a lot of fun. Especially if you miss Halloween already.
Till next time, Splotters!
— Jack, STACKS Staffer