Domingo, 3 Mayo 2015
People living in the vicinity of the Calbuco volcano in Chile are trying to save their homes and their livestock after tonnes of ash rained down following two volcanic eruptions. The roofs of a number of homes and businesses collapsed under the weight of the ash and residents feared for their sheep and cows. Soldiers have been deployed to help with the clean-up. The authorities have warned of the possibility of further eruptions.
The Calbuco volcano in southern Chile erupted twice last week, forcing the evacuation of more than 6,000 people. Chilean authorities said on Saturday that the volcano had spewed out an estimated 210 million cubic metres of ash. The second eruption on Thursday created a cloud of ash that rose 20km into the air. Ash and smoke continued to spew from the Calbuco after the two eruptions last week. Calbuco is one of around 90 active volcanoes in Chile.
The country has been hit by a series of natural disasters in recent months including flooding in the usually arid north and wildfires in its southern forests.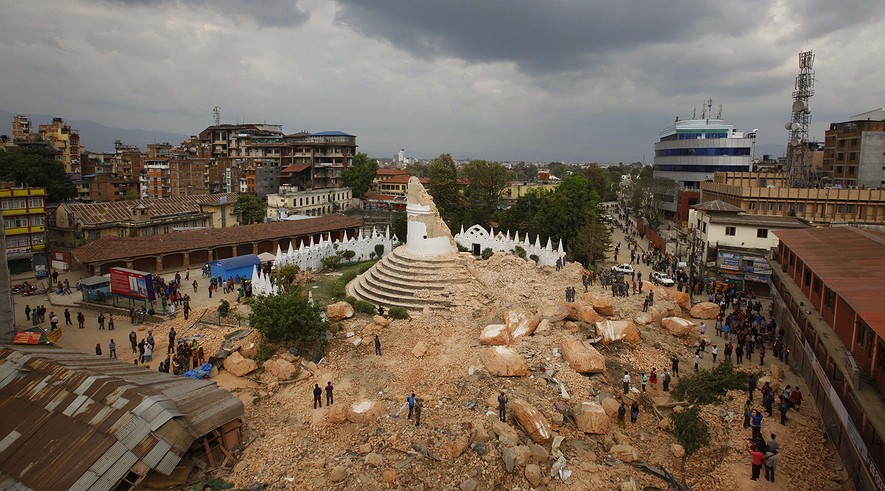 Rescue crews and residents in Nepal early Sunday began the desperate search for survivors after a magnitude-7.8 quake near the capital of Kathmandu a day earlier flattened homes, buildings and temples, causing widespread damage across the region and killing more than 1,800 people.
Whole streets and squares in the capital of more than 1 million people were covered in rubble. Stunned residents stared at temples that were once part of their daily lives and now were reduced to nothing.
Locals and tourists ferreted through mounds of debris in search of survivors. Cheers rose from the piles when people were found alive — but mostly bodies turned up. The injured ended up being treated outside overflowing hospitals, where crowds of people gathered looking for relatives.
Dozens of bodies were pulled from the historic nine-story Dharahara tower that came crashing down during the quake. At least 17 people were reported killed on Mount Everest, where the quake caused multiple avalanches.
The quake was the strongest in the region in more than 80 years. Residents are used to earthquakes in Nepal, and many thought the start of Saturday's quake was a tremor, until the earth kept shaking and buildings crashed down.