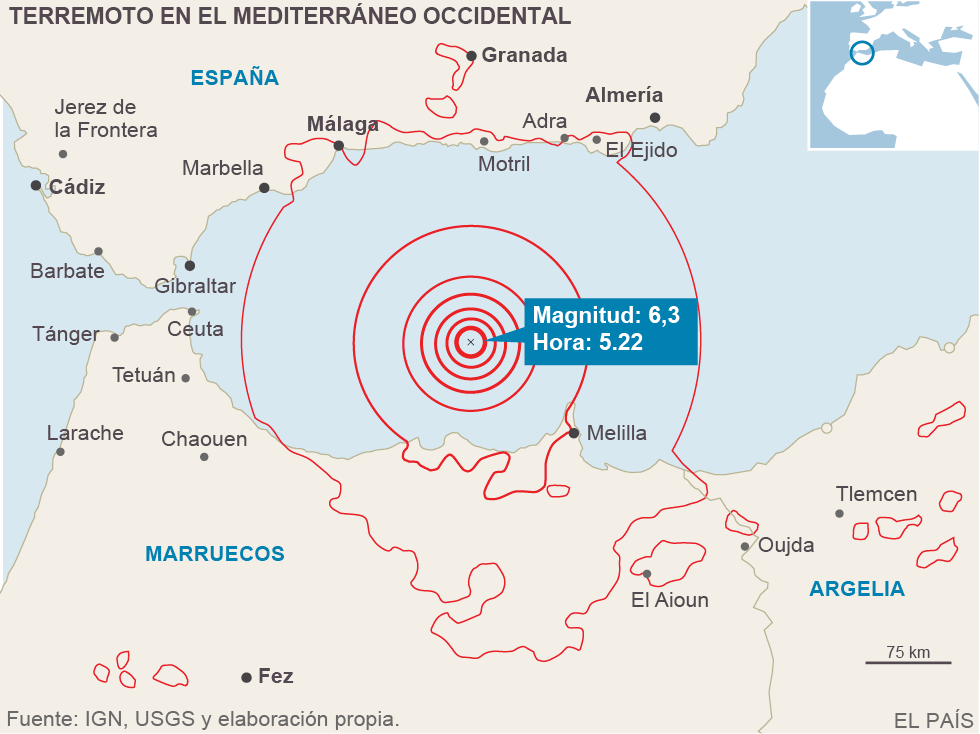 A 6.3-magnitude earthquake struck in the Mediterranean early on Monday 25th January, causing some material damage in southern Spain northern Morocco, although no deaths or injuries were reported.
The quake occurred at 5:22 a.m. Central European Time, about 100 miles southeast of Gibraltar and about 40 miles north of the Moroccan city of Al Hoceima, where an earthquake left hundreds dead 12 years ago.
The quake hit at a depth of about 20 miles and was registered with a preliminary magnitude of  6.1 by the United States Geological Survey, but that assessment was raised by Spain's national geographical institute. The first quake was followed by another, with a magnitude of 5.3, as well as by several smaller aftershocks.
Spanish national television showed panicked people on the streets in coastal cities in southern Spain as well as in Melilla, a Spanish enclave within Morocco.
Television reports showed people surveying cracked building facades, but the regional government of Andalusia, in southern Spain, issued a statement saying that there had been no reports of casualties. The tremors were felt as far inland as Seville, the capital of Andalusia.
In February 2004, a magnitude 6.3 earthquake near Al Hoceima killed 631 people. The last major earthquake in Spain, in 2011, destroyed much of the town of Lorca, in the southeast, and killed nine people.
Este artículo ha sido visitado 285 veces