Jueves, 1 Febrero 2018
A Supermoon happens when a Full Moon or New Moon is near the Moon's closest approach to Earth; also called perigee. A Supermoon can be a New or a Full Moon.
Super Blue Blood Moon Eclipse
The Full Moon on 31st January 2018 is an almost a Supermoon.
A Super Full Moon looks around 12% to 14% bigger than its counterpart, the Micromoon, and up to 7% bigger than an average Full Moon.
More importantly, on this Full Moon night, there will be a total lunar eclipse in some areas, including most of North America, Asia, Australia, and more.
It is also a Blue Moon, as this is the second Full Moon in the month of January. A totally eclipsed Moon usually looks red, and is often called a Blood Moon. This may be a rare opportunity to see a red Blue Moon, or a Super Blue Blood Moon.
Perigee and Apogee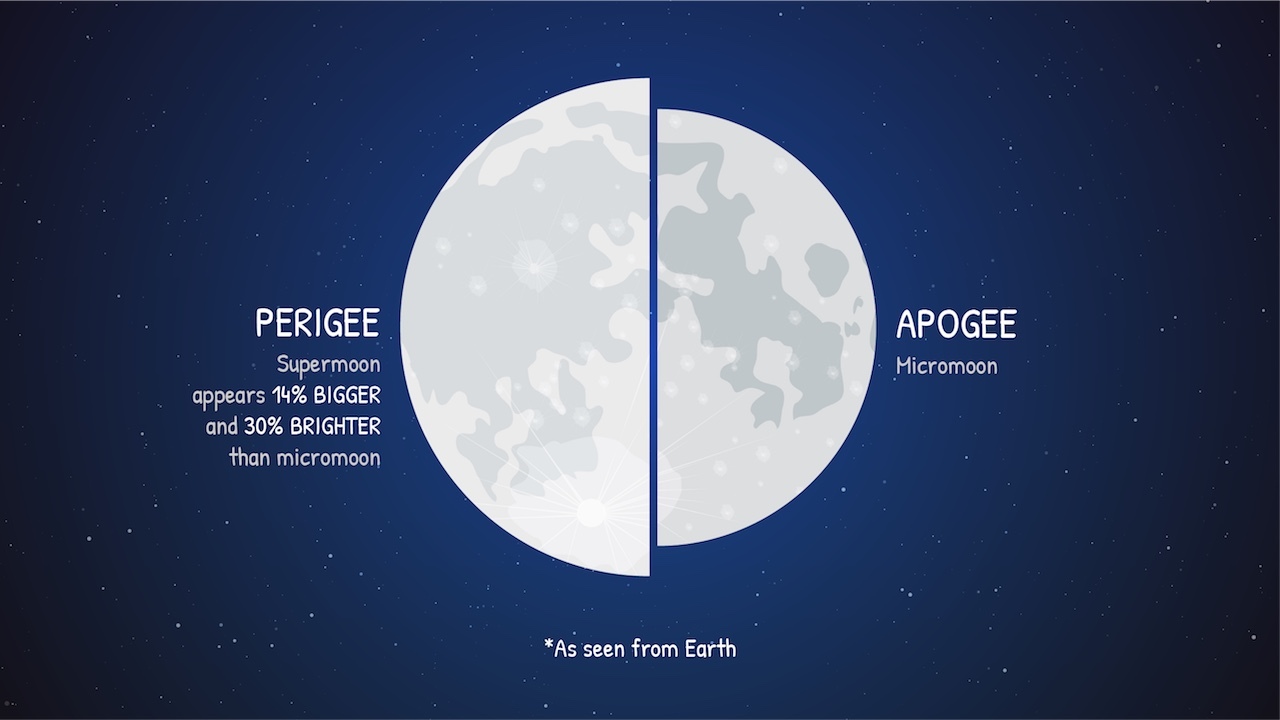 The Moon's orbit around Earth is not a perfect circle, but elliptical, with one side closer to Earth than the other. As a result, the distance between the Moon and Earth varies throughout the month and the year. On average the distance is about 382,900 kilometers (238,000 miles).
The point on the Moon's orbit closest to Earth is called the perigee and the point farthest away is the apogee.
Super Full Moon and Super New Moon
A Supermoon looks larger than a Micromoon.
When a Full Moon takes place when the Moon is near its closest approach to Earth, it is called a Super Full Moon. When there is a New Moon around the closest point to Earth, it is known as a Super New Moon.
A Micromoon,  on the other hand, is when a Full or a New Moon is near its farthest point from Earth, around apogee. It's also known as a Minimoon, Mini Full Moon, or a Mini New Moon.
Looks Bigger and Brighter
Because it's so close to Earth, a Super Full Moon also looks about 30% brighter than a Micro Full Moon and about 16% brighter than an average Full Moon.
Moon Illusion: Best at Moonrise and Moonset
The best time to enjoy a Super Full Moon, or any other Full Moon, is just after moonrise, when the Moon is close to the horizon. Just before moonset is also a good time.
When the Full Moon is low, it looks bigger and brighter than when it's higher up in the sky. This is called the Moon Illusion, and actually makes more of a difference to what it looks like than the real boost you get from it being a bit closer to Earth.