VOCABULARY
- POLYGONS: Click on the image
- CIRCUMFERENCE AND CIRCLE: Cick on the image
-VIDEOS   
  - TRIANGLES in the REAL LIFE: Click on the image
- SING and enjoy this SONG  about angles
THEORY
-  ANGLES WITH PARALELL LINES:
- SUM OF INTERIOR ANGLES IN POLYGONS
- PYTHAGORAS' THEOREM: 
PRACTICE
- Some Exercises of PYTHAGORAS' THEOREM (in Spanish)
- Read and answer the TEN QUESTIONS about RIGHT-ANGLED TRIANGLES: Click on the image
- QUADRILATERALS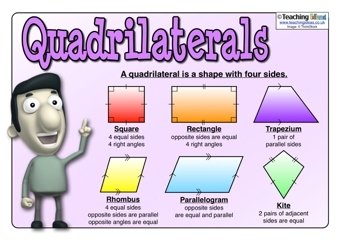 - PERIMETER and AREA Problems
GAME
In this geometry game set in Ancient Egypt, you have been prematurely mummified and entombed within a pyramid. The object of this math game is to help your mummy to escape to freedom, by solving geometry puzzles and building a path across the voids of the pyramid`s burial chambers.
Unfortunately, the pyramid contains many evil characters such as skull bats, skeleton thieves and a ferocious mystical Egyptian demon called Ammit, all of whom are intent on preventing your escape.
Stay ahead of Ammit and zap other enemies with your Ankh Sceptre while you select shapes and build a path out of the tomb.